sundays
sundays 33
"omnibus dei" 1
Sun 13.12.1998, 13:30-23:59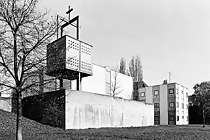 Clemens Holzmeister
"Christ King", Seipel-Dollfuss church with crypt, 1932 – 34
15th district, Vogelweidplatz
The church has been built as monument for the federal chancellor Ignaz Seipel who deceased in 1932. Chancellor Engelbert Dollfuss assassinated in 1934 was interred next to him (since 1938 the chancellors' graves are at the Central cemetery and at the cemetery in Hietzing respectively). The building originally conceived as monastery can only distinguish itself within the urban context by means of succinct architectonic gesture and Franciscan simplicity.The church was created by Holzmeister during the period he was closest to modernism. An unusual large number of artists contributed to the interior design of the church.
Robert Kramreiter
"Holy Maria Queen of Peace" parish and monastery church, 1935 – 36
10th district, Quellenstrasse
Kramreiter is the leading architect of the political endeavor that aspired recatholization in Austria after the suppression of the "Red Vienna". (short stop)
Johann Georg Gsteu
Spiritual welfare centre, "To the four holy Evangelists",1960 – 65
14th district, Hütteldorfer Strasse
The building is made of reinforced concrete and has been developed according to a modular order. The principles of the second Vaticanum were liturgically realised in a radical way. The impressive church room consists of four cubic hollow volumes cantilevered to the inside and separated by continuous lightening stripes of glass.
Rudolf Schwarz
parish church, "St.Florian" with community centre, 1956 – 63
5th district, Wiedner Hauptstrasse
The church is the result of a competition carried out to create a new monument for Wieden after the demolition of the Rauchfangkehrer church.
Departure from the Architekturzentrum Wien at 2 p.m.
Tickets: ATS 150.- Students: ATS 100.-
Guide: Barbara Achleitner