sundays
sundays 255: vienna forays
Sun 06.11.2011, 12:00-16:00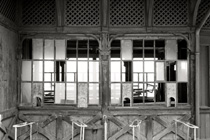 In his book 'Wiener Streifzüge' (Forays into Vienna) Gerhard Rihl shows photographs of special buildings and locations in Vienna whose particular history — vacation, conversion, demolition… — makes these images valuable documentation. With Gerhard Rihl, sonntags gives a guided tour of selected "hidden places" from his cycle. This unique excursion provides perhaps a last glimpse of the sites concerned.
* 255-01 Sophiensäle, Vienna-Landstrasse: Eduard van der Nüll, August Sicard von Sicardsburg, 1849; conversion and new buildings: Ernst Gotthilf-Miskolczy, 1899
* 255-02 Gallopprennbahn Freudenau racecourse, Vienna-Leopoldstadt: Carl v. Hasenauer, Adolf Feszty, Anton and Josef Drexler, 1885
* 255-03 OMV, Ölhafen Lobau
tickets incl. coach, guided tours.
meeting at 12 noon, Az W shop / dep. at 12:15pm, Az W driveway / ends at 4pm, Az W
tour guide: Gerhard Rihl
coordination: Marion Kuzmany