sundays
sundays 251 on a saturday: pannonia special
Sat 10.09.2011, 09:45-19:30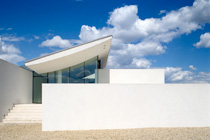 Art and culture between fine wineries interspersed with single-family houses of exceptional quality characterise the unique flair of Burgenland, between the Leitha Mountains to the North and the southerly Waasen Fens landscape. sonntags launches the autumn season with first-hand experiences of the ultimate sites in this region of delicacies.
251-01 Eiermuseum (egg museum), Winden / Bgld.: gaupenraub +/-, 2010
251-02 Claus Preisinger winery, Gols / Bgld.: propeller z, 2010
251-03 Haus am Weingarten (house in the vineyards), Podersdorf: Baar-Baarenfels Architekten, 2000
251-04 Erich Sattler winery, Tadten / Bgld.: Architects Collective, 2009
tickets incl. coach, lunch packet, museum admission, 2 wine tastings, guided tours. Maximum no. of participants: 25-30
meeting at 09:45am, Az W driveway / dep. at 10:45am, Az W driveway / ends at 7:30pm, Az W
architects, architects, vintners: Waltraud Bertoni, Wander Bertoni, Alexander Hagner (gaupenraub +/-) / Claus Preisinger / Johannes Baar- Baarenfels / Erich Sattler, Kurt Sattler (Architects Collective)
tour guide: Marion Kuzmany
Impressions of the excursion 'sundays 251 on a saturday: pannonia special', September 10, 2011.