sundays
sundays 250: brazilian architecture
highlights connected with oscar niemeyer
Booked up!
Sun 13.11.2011 – Sat 26.11.2011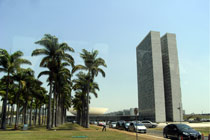 Registration (deadline March 28, 2011) and information: office@azw.at
Details: please refer to Download 'sundays 250 programme (504 KB, in German)'
In 2010 the city of Brasilia, which was planned by Lucio Costa in the shape of an airplane and predominantly enriched with impressive buildings by Oscar Niemeyer, celebrated its 50th jubilee. The megatropolis of Sao Paulo and the fantastic coastal city of Rio de Janeiro both stand in rich contrast to the city planned on the drawing board as well as being rich in Modern architectural treasures and contemporary highlights. Ouro Preto, a unique baroque gem, adds to the appeal of this diverse country.
Rio de Janeiro — Brilliant Architecture and Sensational Natural Experiences
Belo Horizonte, Ouro Preto and Mariana — Heading Up Country
Brasilia — Oskar Niemeyer's Sensual Realm
Sao Paulo — In The Thick of the Concrete Jungle
Tickets include air fares (on Air France and TAM), airport transfer, bus, 11 nights with breakfast (Hotel Rio Othon Palace, Grande Hotel de Ouro Preto, Brasilia Palace Hotel, Maksoud Plaza Sao Paulo), approx. 9 dinners and 10 lunches (drinks not included), admission fees and guided tours. Tour in cooperation with Ö1 Kulturreisen. Full programme details on request. Written reservation required. See below for cancellation conditions. Max. number of participants: 25. Deadline for reservations: 28.03.2011
meeting on 13.11 at 6.30pm, Vienna airport: Air France check-in desk, take-off at 8.15pm | return: arrival in Vienna on Saturday 26.11 at 12:05pm | tickets pp in double room € 4,620.- / Ö1-Club-Preis € 4,158.- / single room supplement € 785.- | local architects and experts: lokale ArchitektInnen und ExpertInnen: Judith Augustinovic, Luciana Saboia Fonseca Cruz, Júlia Monteiro Herszenhut, Arthur Casas, Raphael Franca, José Geraldo Simoes Jun. | excursion manager: Marion Kuzmany
Cancellation conditions:
Cancellation fee 45–36 days prior to departure: 30% of the full price, 35–11 days prior to departure: 45%, 10–4 days prior to departure: 75%, 3 or fewer days prior to departure: 100%. Reservations are valid on receipt of payment in full.