sundays
sundays 249: this is what it looks like from above 5
Booked up!
Sun 19.06.2011, 13:45-18:00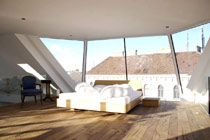 Rich in intelligent details and interesting spatial arrangements, three new loft conversions not only provide new perspectives on Vienna, with their different approaches they also demonstrate what an innovative and inexhaustible wealth of approaches to finding solutions the commission can entail.
The use of unconventional materials and the sophisticated play with three-dimensionality on various levels lend a special character to these very individual sanctuaries.
* 249-01 dag — loft conversion, Vienna-Währing: allmermacke, 2010
* 249-02 Penthouse P, Vienna-Leopoldstadt: t-hoch-n, 2010
* 249-03 loft conversion K, Vienna-Wieden: t-hoch-n, 2011
Tickets include bus transfer and guided tours. Max. number of participants: 25
meeting at 1.45pm, Az W Shop / departure at 2pm, Az W entranceway / ends at 6pm, Az W
architects: Karen Allmer, Florian Macke (allmermacke) / Gerhard Binder, Peter Wiesinger (t-hoch-n Architektur)
tour guide: Marion Kuzmany
Photos of the excursion 'sundays 249: this is what it looks like from above 5', June 19 2011.