sundays
sundays 248: wittgenstein
Booked up!
Fri 10.06.2011, 11:15-16:30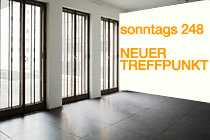 "The radicality and modernity of the architecture of the Stonborough-Wittgenstein House (1926–1928) shows its particular qualities in direct comparison to the Viennese architectural context of the time, in the comparison to work by Behrens, Hoffmann, Frank, Loos and Prutscher. The history of the building also shows the growing emancipation of a woman and a client whose first apartment had been completely furnished by Josef Hoffmann and whose desire for modernity in the architecture also facilitated a more differentiated reading of the role of women."
August Sarnitz gives a guided tour of Haus Wittgenstein, of further Modern examples in Vienna and of his exhibition at the Az W.
* 248-01 examples of Modernism in Vienna
* 248-02 Haus Wittgenstein, Vienna-Landstrasse: Ludwig Wittgenstein, Paul Engelmann, 1928
* 248-03 exhibition 'Reconstructing Wittgenstein' at the Az W
Tickets include admission charges, guided tours and bus transfer.
meeting at 11.15am, Az W / ends 4.30pm, Az W
tour guide and exhibition guide: August Sarnitz coordination: Marion Kuzmany
Photos of the excursion 'sundays 248: wittgenstein', June 10, 2011.