sundays
sundays 247: volksbank and kunstspeicher
Sat 21.05.2011, 10:30-17:00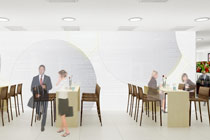 Carsten Roth gives a guided tour of his projects in Vienna and Pöttsching: the recently completed central offices of the Österreichische Volksbank and an art depot for the works of the painter Uta Peyrer and the sculptor Karl Prantl. Carsten Roth provides a deep insight into the two projects. Uta Peyrer and Katharina Prantl invite the sonntags excursion to visit their art depot and are accompanying the guided tour.
247-01 central offices of the Österreichische Volksbanken-AG, Vienna-Alsergrund: Carsten Roth, 2010
247-02 lecture by Carsten Roth
247-03 Kunstspeicher Uta Peyrer und Karl Prantl (art depot), Pöttsching: Carsten Roth, 2008
Tickets include the lecture by Carsten Roth, guided tours, bus transfer and lunch.
meeting at 10.30am, central offices of the Österreichische Volksbanken-AG, 14–16 Kolingasse, 1090 Vienna / guided tour and lecture, follow by bus departure / ends at 5.30pm Az W
architects, experts and artists: Carsten Roth, Harald Posch (managing director of the Volksbank AG) / Uta Peyrer, Katharina Prantl
tour guide: Marion Kuzmany
Photos of the excursion 'sundays 247: volksbank and kunstspeicher', May 21, 2011.