sundays
sundays 238: designsafari 5: guidance systems
Sun 03.10.2010, 13:45-20:00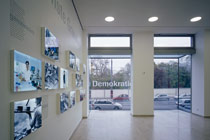 At the beginning of the VIENNA DESIGN WEEK 2010 the fifth designsafari presents outstanding examples of graphic guidance systems in buildings of no lesser value from Vienna to Tulln, leads over the delightful Seerosenbrücke (water lily bridge) and on to a varied cultural stroll through St. Pölten accompanied by the designers.
* 238-01 Arbeiterkammer (official representation of employees in Austria), Vienna-Wieden: architecture by NMPB Architekten; foyer design by Gabriele Lenz, Anja Mönkemöller; guidance system by Walter Bohatsch, 2009
* 238-02 Leopoldstadt care home: architecture by Helmut Wimmer, orientation system by Gabriele Lenz, Anja Mönkemöller, 2010
* 238-03 Tulln regional clinic: architecture by Paul Katzberger; guidance system by Erwin K. Bauer, 2009
* 238-04 Seerosenbrücke, Tulln: Bulant & Wailzer, 2008
* 238-05 culture tourism guidance system, St. Pölten: Gabriele Lenz, Anja Mönkemöller, 2009
tickets include coach rides
meeting at 1.45pm, Az W Shop
departure at 2pm, Az W entranceway
ends at 8pm, Az W
expert tour guides: Erwin K. Bauer / Gabriele Lenz, Anja Mönkemöller
coordination: Marion Kuzmany
Photos from the excursion "sundays 238: designsafari 5: guidance systems", 3. Oktober 2010.