sundays
sundays 217
USA pacific north west: two cities on the water
Sat 16.05.2009 – Sun 24.05.2009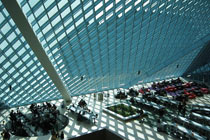 Old native American culture and modern art, breathtaking countryside and exceptional new architecture, fantastic cooking and an international population characterise the special flair of the American Pacific north coast and its interesting harbour towns. We visit the two best: Seattle and San Francisco.
SEATTLE
* Pike Place Market
* Bellevue Art Museum: Steven Holl
* St. Ignatius Chapel: Steven Holl
* Public Library: R. Koolhaas, Office for Metropolitan Architecture
* SAM Seattle Art Museum
* Experience Music project: Frank Gehry
* Space Needle
* Smith Tower
* 'Seattle Greatest HitsTour', Gallery visit and wine+cheese reception at the SAF Seattle Architecture Foundation
* Olympic Sculpture Park
* Ferry to Vashon Island
* House on Vashon: Domestic Architecture
* Seattle Waterfront
SAN FRANCISCO
* de Young Museum: Herzog & de Meuron
* Golden Gate Park / California Academy of Sciences: Renzo Piano
* Contemporary Jewish Museum: Daniel Libeskind
* Federal Building: Morphosis
* Museum of Modern Art: Mario Botta
* Gallery House: ogrydziak / prillinger architects
* Fishermens Wharf
* Conduit Restaurant: Natoma Architects
* Hallidie Building
* Embarcadero Center: John Portman
* Alcoa building: Skidmore Owings & Merrill
* Transamerica Pyramid: William L. Pereira
* China Town
* William Stout architectural bookstore
* SF Art Institute
Local architects, experts: Roberta Miner (Seattle Architecture Foundation), Roy McMakin (Domestic Architecture), Luke Ogrydziak (ogrydziak / prillinger architects), and others
Excursion supervision: Marion Kuzmany
Tickets include flights with Lufthansa and United: Vienna-Frankfurt-Seattle, Seattle-San Francisco, San Francisco-Munich-Vienna, 7 Nights + breakfast (4x Moore Hotel, Seattle, 3x Hotel Whitcomb, San Francisco), 7 x supper & 1 x lunch (drinks not included), admission, airport transport, bus, public transport, museum admission and guided tours.
Maximum number of participants: 25.
Detailed programme available on request.
Meeting on Saturday 16.05 at 5.30am, Lufthansa check-in desk, Schwechat aiport / take-off at 7.05am
Return on Sunday 24.05 at 8.20pm
We will send you a bill and a bank payment slip on receipt of your written reservation. Reservations are binding, and subject to the general terms of cancellation.
General cancellation policy:
30 days prior to departure date: 10%
29–20 days prior to departure date: 25%
19 – 10 days prior to departure date: 50%
9 – 4 days prior to departure date: 65%
3 days or less before departure date: 85%
24 hours or less days prior to departure time: 100%
Reservations only valid on receipt of payment in full.
Impressions from the excursion "sundays 217. USA pacific north west: two cities on the water", May 16-24, 2009.