sundays
sundays 204
two sundays in japan
Booked up!
Sat 17.05.2008 – Mon 26.05.2008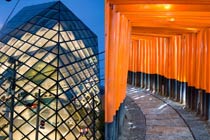 On the trail of Japanese architecture between tradition and Utopia, craftsmanship and high-tech. Zen Buddhist simplicity and mannerist luxury take the sonntags excursion to contemplative temple gardens in Kyoto and directly to the nerve centre of the densely populated megacity Tokyo. An extraordinary excursion in a high cultural enclave shimmering with contrasts.
Kyoto Station: Hiroshi Hara / Times I, II Buildings: Tadao Ando / Kozan-ji Temple / Daitoku-ji Temple / Garden of Fine Arts: Tadao Ando / Toshihito Yokouchi Architect & Associates / Fushimiinari-taisha Senbontorii Shrine / Byodo-in Temple / Byodo-in Museum: Akira Kuyu / Yokohama Port Terminal: Foreign Office / Tokyo: Tama Art University New Library: Toyo Ito / Shiodome / Shinonome canal court: Riken Yamamoto, Toyo Ito, Kengo Kuma, Shoji Yamada, ADH/workstation, Motokura/Yamaoto/Hori / studio and apartment building Bow Wow / Fuji Kindergarten: Tezuka architects / Gallery ma / Tokyo Midtown Complex / Design Site 21_21: Tadao Ando / Suntory Museum of Art: Kengo Kuma / National Art Center Tokyo: Kisho Kurokawa / Roppongi Hills / Mori Museum of Modern Art / Tokyo City View Observatory / Capsule Tower: Kisho Kurokawa / Tokyo International Forum: Raphael Vignoly / Mikimoto Ginza: Toyo Ito / Yanaka gallery district / Meiji jingu Schrein / National Gymnasium for Tokyo Olympics: Kenzo Tange / hhsyle.com/casa: Tadao Ando / hhstyle.com: Kazuyo Sejima / Dior: sanaa / Omotesando Hills: Tadao Ando / Louis Vuitton: Jun Aoki / Prada: Herzog & de Meuron / Issey Miyake Shops / Park Hyatt: Kenzo Tange
architects, experts:
Toshihito Yokouchi
Yoshitaka Ihara (Atelier Toyo Ito)
Urban Renaissance Agency
Yoshiko Iwasaki (studio Bow Wow)
Tezuka architects
Kengo Kuma
Nobuko Morita
Hiroya Kawabata, inter alia
tour guide: Marion Kuzmany
tickets, including direct flight and airport conveyance,
8 nights + breakfast. (2x Hotel Granvia Kyoto, 1x traditional Ryokan, 5x Park Hotel Tokyo)
7 dinners and 1 lunch (drinks not included)
admission (in 5 temple complexes, 6 museums, 1 observatory)
7 days JR rail pass, Tokyo metro pass
1 day bus in Kyoto, 1x luggage transport
guided tours
flights with Austrian Airlines
Sat. 17.05.: Vienna – Tokyo 2.05pm – 08.20am (Sun.) OS 501
Mon. 26.05.: Tokyo – Vienna 10.55am – 4.05pm OS 052
meeting on Saturday 17.05 at 12:30pm, Austrian Airlines check-in at Schwechat airport
take-off at 2.05pm
return, landing on Monday 26.05 at 4.05pm
capacity: 25 participants
Impressions from the excursion 'sundays 204: two sundays in japan', May 17, 2008 – May 26, 2008.