sundays
sundays 201
this is what it looks like from above 4
Booked up!
Sun 30.03.2008, 13:45-18:00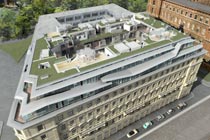 Three inside looks at the Vienna skyscape where fine offices, some ingenious construction around a Grunderzeit onion dome, and extravagant layering in an outstanding position feature in the fourth sundays excursions looking at 'the view from above'.
* 201-01 Landesgerichtsstrasse loft conversion, Vienna-Josefstadt: Schuberth und Schuberth, 2006
* 201-02 Nibelungengasse loft conversion, Vienna-Inner City: Rüdiger Lainer, 2008
* 201-03 Loft Conversion Hubergasse: ABdomen Architektur, 2005
capacity: 30 participants
architects:
Schuberth und Schuberth
Konrad Spindler
Rüdiger Lainer
tour guide: Brigitte Marchel
meeting at 1.45pm at the Az W Info. stand
departure at 2pm from the Az W entrance
return at 6pm
Impressions from the excursion "sundays 201: this is how it looks from above 4", March 30, 2008.