sundays
sundays 193
floridsdorf is flourishing 1: advice+support+accommodation
Sun 09.09.2007, 13:45-18:00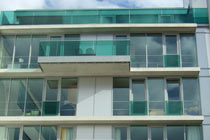 This tour will be presented in German, supplementary information in English offered.
From top to foot in fair-faced concrete, glass and oak used consistently and with purity, and with perfect details, Runser/Prantl's new FamilienRAThaus (family advice bureau) for the first SOS Kinderdorf in Vienna is a gem. Five specially adapted apartments are situated in the neighbouring housing complex, the six-volumed U of which contains a total of over 600 rented homes around a large planted courtyard. Glazed bridges and corridors connect the different but complimentary buildings.
Meeting point: Architekturzentrum Wien info stand
Excursion: Sunday 09.09.2007, 1.45 – 6pm
Tickets: €18.- / with reduction €14.-
* 193-01 SOS Kinderdorf FamilienRAThaus, Vienna-Floridsdorf
RUNSER / PRANTL architekten, 2005
* 193-02 Rudolf-Virchow-Strasse housing complex, Vienna Floridsdorf, 2007
Margarethe Cufer
Harry Glück
Johannes Kaufmann
Hermann Kaufmann
Rüdiger Lainer
s&s architekten
Architects and experts:
RUNSER/PRANTL architekten
Wilfried Vyslozil (SOS Kinderdorf)
Rüdiger Lainer
Harry Glück
Gerald Gundacker (Büro Harry Glück)
Margarethe Cufer
s&s architekten
Guided tour by Marion Kuzmany
Meeting at 1.45pm at the Az W info stand / departure at 2pm from the Az W gateway / return at 6pm
Impressions from the excursion "sundays 193. floridsdorf is flourishing 1: advice+support+accommodation" 9 September 2007.