sundays
sundays 189
a_schaufenster: innovative accomodation
Sun 13.05.2007, 13:45-18:30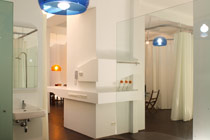 A model of the "Kabelwerk" in the "a_schaufenster" of the "a_schau" exhibition in the Az W offers a good overview. This is followed by a site visit to the "city in the city" on the site of the former Kabelwerk in Vienna Meidling that offers precise information about this new housing complex.
Passing building sections C, B and G sundays moves through sections D and F and scales the roof of section F.
The pleasant end to this sundays excursion is provided by the loft experience in a former workshop in Ottakring, reanimated by HOLODECK.at.
* 189-01 Guided tour of "a_schaufenster" in the "a_schau" in the Az W
* 189-02 Kabelwerk Vienna, Vienna Meidling: A, D, E: Mascha & Seethaler / C: Schwalm-Theiss & Gressenbauer / D: Hermann & Valentiny / B, F: pool Architektur ZT GmbH / G: Martin Wurnig / Branimir Kljajic / Werkstatt Wien Spiegelfeld & Holnsteiner, 2007
* 189-03 spatial appropriation, Vienna Ottakring: HOLODECK.at, 2006
Architects: Christoph Lammerhuber (pool Architektur ZT GmbH) / Christian Seethaler (Mascha & Seethaler) / HOLODECK.at
Tour guide: Manfred Schenekl
Meeting point: 1:45 pm Az W Info / lecture at the exhibition a_schau in the Az W / departure 2:30 pm Az W entrance driveway / scheduled return 6:30 pm
Impressions from the excursion "sundays 189: a_schaufenster: innovative accomodation", May 13, 2007.