sundays
sundays 171
mixed reality 4… media facades
Sun 02.04.2006, 17:00-22:00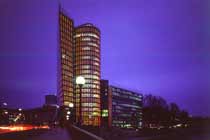 Enriched by office buildings along the Donaukanal in Vienna and two museums, in Graz and Linz, new silhouettes on the skyline are attracting attention by playing on different expressive possibilities for their media-based facades. The newest forms of pixel facades and LED displays use moving images to show the way towards an urban era for the future.
A workshop in the Az W Podium shows clearly virtual and hands-on examples of the newest facade element technology. This vespertine sundays leads to a multimedia presentation at Uniqa along with other examples of similar around Vienna. The finalé is at the Karlsplatz light strip and the final notes sound in a suitable ambience…
Meeting point 5pm at the Az W Podium
presentations in the Az W-Podium
departure 7.15pm
tour ends at 10pm
then open end
* 171-01 Exhibition of media facade prototypes and models at the Az W Podium: Bartenbach Licht Labor GmbH, Innsbruck / streetvision, London / ARQUITECTOS, Vienna
* 171-02 Uniqa Tower, Vienna-Leopoldstadt: Facade illumination: Licht Kunst Licht, 2006 / Media applications in the foyer: Norbert Chmel
* 171-03 Examples in urban space: Media Tower Screen, Vienna-Leopoldstadt: Ascom, 2000 / Q19 LED Fassade, Vienna Döbling: Multivision, 2005 (both from the bus)
* 171-04 police station/Help U/light strip, Vienna-Wieden: ARQUITECTOS, 2006
* 171-05 multimedia finalé
Architects, experts:
Peter Cornwell (streetvision)
Robert Müller (Bartenbach LichtLabor GmbH)
Heidi Pretterhofer and Dieter Spath (ARQUITECTOS)
Ernst Morgenbesser (Uniqa Versicherungen AG)
Norbert Chmel
Robert Kniefacz (MA 19)
Tour guide: Oliver Schürer
mixed reality 4 meets virtual jungle 5:
discussion evening on the topic 'Media Facades' at the Az W Podium on Wednesday 5.04.2006 at 7pm.
sundays 171 highlights media facades: