sundays
sundays 167
through the vines
Booked up!
Fri 04.11.2005 – Sat 05.11.2005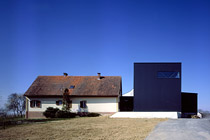 A surprise is in stow for the tired taster, daydreaming up and down the rolling wine hills of southern Styria on the pilgrimage from one winery to the next, past Morillon and Sauvignon, variations of pumpkin seed oil, and aspic creations – all of a sudden a wine rack appears in the idyllic landscape!
On to Tement's spectacular terrace with a view into Slovenia, private dwelling paradises, lots of glass, steel, marble, wood, deliciously spicy white wines, and bacon from Krispel's "wooly pig." A multi-layered dance of aromas.
Friday: a delicate peppery finish
167-01
* Krispel Winery, Hof bei Straden: Weidemann Architekten, 2002
167-02 Neumeister Winery, Straden: W. Schüttmayr, Andreas Burghardt, Ingenius, 1998-2005
167-03 Ploder-Rosenberg Winery, St. Peter a.O.: W. Schüttmayr, thaler.thaler architekten, 1999-2005
167-04 Tement Winery, Berghausen: Klaus Jaretzky, Christian Leiter, 2001
167-05
* Polz Winery, Spielfeld: g2plus (Martina & Norbert Grabensteiner with Bernd Masser), 2001
Saturday:
a supple, structured balance
167-06 Gross Winery, Gamlitz: Werner Schüttmayr, Albertoni, 1994, 2001
167-07
* Sabathi Winery, Leutschach: Igor Skacel, 2004
167-08
Vin'o Tscheppe, Leutschach: g2plus, 2004
167-09 Lackner-Tinnacher Winery, Gamlitz: Rolf Rauner, 2000
167-10
* Regele Winery, Ehrenhausen: g2plus, 2005
Ticket price includes bus fare, 1 night at the Weinlandhof Hotel in Gamlitz (breakfast included), 2x lunch (beverages not included), 1x 12-course "panoptikum" with wines. After registration in writing you will receive a bill and a payment coupon. Registration counts as booking and is subject to general cancellation policy (see below). Deadline for ickets or registration: 10/03/05. Maximum number of participants: 30.
Meeting time + place: Friday, 8:15 am Az W driveway / departure: 8:30 am / return: Saturday, 6:30 pm
Tickets per person, double occupancy: EUR 184.00 / single room: EUR 196.00
Architects + vintners
Guided tour: Martina Grabensteiner (g2plus, Co-curator of the "WineArchitecture" exhibition at Az W)
General cancellation policy:
Costs for cancellation 30 days before departure: 10%; 20-29 days before departure: 25 %: 10-19 days before departure: 50%; 4-9 days before departure: 65%; from 3 days before departure: 85%; from 1 day before departure: 100%