sundays
sundays 160
green path/golden paw/ivy trail
Sun 12.06.2005, 10:45-20:30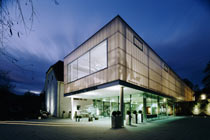 160-01
* S1 Wiener Südrandstrasse, Grünbrücken: Architektur Consult, 2005
The sundays excursions are going to show how deer cross the motorway on the new S1. There is an interesting geometry to the concrete surfaces supporting the planted bridges that allow the migration of these majestic animals.
160-02
* Gironcoli Museum, Schloss Herberstein: Architektur Consult, 2004; landscape architects: Auböck + Kárász, 2004
A worthy setting for Bruno Gironcoli's organic machine-like sculptures is provided by the historic malting building at Schloss Herberstein with Hermann Eisenköck's cool extension box of steel, glass and plastics. The extensive collection of whimsical forms shines with metallic self-confidence in its restrained but special new shell and surrounded by garden architecture expertly modelled by Auböck + Kárász.
160-03
* Schwarzer Laubfrosch, Bad Waltersdorf: Splitterwerk, 2004
Not restricted to the exterior, audaciously positioned wild ivy flourishes inside, too, in and around the Schwarzer Laubfrosch (black greenback). A particularly striking example of a contemporary design gesamtkunstwerk.
Tickets include lunch and admission + guided tour of Schloss Herberstein.
meeting point: 10.45pm, Az W Shop / departure: 11am / return: 8.30pm
architects:
Martin Wakonig (Architektur Consult)
Maria Auböck
Herwig Zöhrer (Architektur Consult)
Splitterwerk
guided tour: Marion Kuzmany