sundays
sundays 156
mixed reality 3...animation
Sun 10.04.2005, 13:45-19:00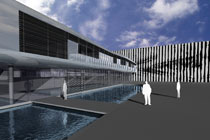 There is an growing trend to represent architecture with moving images, and ever more elaborate animations are playing an increasing role in architecture competitions. Digital technology has made it possible to animate images in combination with sound to create complex impressions. Architects are being challenged to think in movement and narrative for this new dimension in the representation of architecture.
What are the challenges being faced, which computer technology is appropriate, what qualities does it offer and what are the trends, and what are the potential applications for the animation of architecture?
The sonntags excursion is paying a visit to the studios of the artists, service providers, DIY-enthusiasts and freaks concerned to get a feel for the transitions in production between media art, virtual reality in the cave, marketing and film special effects.
156-01
* archivision, Vienna-Josefstadt
156-02
* ZOOM VP visual project, Vienna-Wieden
156-03
* Virtual DynamiX, Vienna-Neubau
156-04
* 'Architecture Animations, between Service and Avantgarde' in the Az W Podium
The discussion 'virtual dschungle 4…animation-reception' is being held at the Az W on Wednesday 20.04.05 at 7pm as a sequel to 'mixed reality 3… Architecture Animation'.
meeting point 1.45pm, Az W Shop / departure: 2pm / end of tour: 5.15pm, 24 Kirchengasse, 1070 Vienna / on foot or tram 49 to the Az W / 5.30-7pm animated films in the Az W Podium
architects, experts: Andreas Jonas (archivision) / Martin Gleiss, Gernot Schönauer, Jens Gerhardt (ZOOM VP) / Michael Lisner (Virtual DynamiX)
guided tour and concept: Oliver Schürer
Filmschedule (German only!)
animationstechniken
drawing account, usa 1941
hinter der szene eines animation studios das an einer chevrolet werbung arbeit.
platonic chain, japan 2003
cinetics
alyx, usa 2002
motion capture
seeing green, usa 1937
stop motion, modellanimation
13:29
one a space odyssey, usa 2004
brickfilm aus lego und playmobil
1:23
fake_science
machinima
adapting the half-life engine
5:30
blade runner in unreal tournament, usa 2003
gametype: unreal tournament – matinee scene
4:50
medienkunst
arbeiten von
dietmar offenhuber
sabine funk
dariusz krzeczek
anja krautgartner
architekturpräsentationen
ECB Europäische Nationalbank
flythrough
LAUBlab
1:00
desert house 2001
kritik des traditionellen architektonischen "flythroughs" mit "handheld" camera.
2:56
commercial
ums haar, a 2003
friseurvideo
tidbit
1:48
darstellung technischer prozesse
mst, d 2003
betoniervorgang von einem behälter
2:00
yeah!
return form visionscape, d 2003
3deluxe
6:24
als überaschung ein gustostückerl