sundays
sundays 154
on uhl's track
Sun 06.03.2005, 13:45-18:00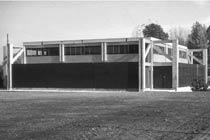 Ottokar Uhl is considered one of the major protagonists of Austrian architecture in the second half of the 20th century. His work focuses on innovation in church building and the development of participatory models for housing developments. Uhl's complete oeuvre shows an understanding of building as a participatory process and incorporates the notion of change through usage as an integral element of the architecture.
With a focus on the central themes in the oeuvre of Ottokar Uhl, the exhibition attempts to provide a contemporary look at his work. The buildings on the agenda for the tour are representative examples of substantial areas in his work.
guided tour of the exhibition Ottokar Uhl. After the Rules of Architecture at the Architekturzentrum Wien. Followed by a sonntags tour of selected examples of the architect's work in Vienna.
154-01
* Ebendorferstrasse Chapel, Vienna Inner City: Ottokar Uhl, 1958
*154-02
the 'Wohnen mit Kindern' apartment building, Vienna-Floridsdorf: Ottokar Uhl, 1984
154-03
* Demontable Kirche, Kundratstrasse, Vienna-Favoriten: Ottokar Uhl, 1967
meeting point: 1.45pm, Az W Shop / guided tour of the exhibition / departure 2.45pm / return: 6pm
guided tour: Bernhard Steger, co-curator of the exhibition at the Az W