sundays
sundays 151
vienna's best of… working and living 2
Booked up!
Sun 21.11.2004, 13:45-18:00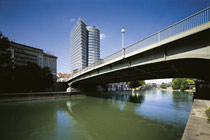 A new tower on Donaukanal shows off its technical sophistication and ingenious façade technology. The 75m high, elliptical glassed-in tower with a beveled annex is not only elegant but energy efficient and a prestigious showpiece of the Uniqa Insurance Agency.
Existing structures have been improved and transformed into stylish offices and apartments or made into spaces that are equally inviting for working and living.
sundays shows how a typical interior courtyard in Vienna's 6th district can become an intimately idyllic place underneath a straw-covered roof and how small and large incisions with the architectonic scalpel can bring new life to gabled roofs and first floors.
151-01
* * Uniqa Tower, Vienna 2nd district: Neumann & Partner, 2004
151-02
* Vienna's first straw house, Vienna 6th district: allmermacke, 2003
151-03
* Attic apartments, Vienna 13th district: heinz Lutter, 2004
151-04
* Work/Living Unit, Vienna 9th district: share architekten, 2003
Meeting point: 1:45 pm Architekturzentrum Wien – Shop / departure: 2:00 pm / return 6:00 pm
Architects, experts: Heinz Neumann; Ernst Morgenbesser (Uniqa Insurance Agency) / allmermacke / Heinz Lutter / share architekten
Tour Guide: Ebru Simsek