sundays
sundays 145
home looks like this (V)
Booked up!
Sun 20.06.2004, 13:45-18:00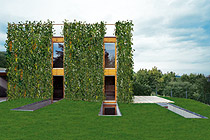 Insiders' secret: Vienna's small garden communities!
Changes in laws governing small gardens and ingenious designs by expert teams of architects have transformed the image of small garden communities from suburban pea patches to sought-after building sites. The discovery of legislative loopholes along with the architects' skillful use of limited space while maximizing the advantages of site and view have made the construction of many a dream home in small gardens on the outskirts of Vienna possible.
Passing the Heuberg settlement sundays will guide us to Tatami in Hernals, to a daring projecting structure in Ottakring and on to clever precision in Hietzing.
145-01
* Zehetmayer family home, Vienna Hernals district: Jörg and Miyako Nairz, 2003
145-02
* House DRA, Vienna 16th district Ottakring: querkraft architekten, 2003
145-03
* Villa Pia, Vienna 13th district Hietzing: noncon:form, 2003
Meeting point: 1:45 pm Architekturzentrum Wien – Shop / departure 2:00 pm / return 6:00 pm
Tickets: EUR 12.- (students EUR 8.-)
Architects: Jörg and Miyako Nairz / Peter Sapp (querkraft architekten) / Roland Gruber (noncon:form)
Tour guide: Anneke Essl