sundays
sundays 144
bathing in slovakia
Booked up!
Thu 10.06.2004 – Sat 12.06.2004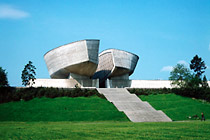 An excursion to the former imperial resort towns Piestany and Trencianské Teplice and surrounding areas leads not only through traditional spa-temples but offers a glimpse into a very special architectonic conglomerate consisting of functionalist modernity and traditional as well as contemporary design. A dip into the outdoor pool of the "Green Frog" thermal spa will revitialize us on Friday afternoon.
Highlights of the tour:
Thursday: Vienna – Stupava – Piestany
* Hotel Thermia Palace: Armin Hegedüs, Henrik Böhm, 1912
* Colonnade Bridge: Emil Bellus, 1933
* House of Arts / Palace of Culture: Ferdinand Milucky, 1980
Friday: Piestany – Trencín – Nová Dubnica – Trencianské Teplice
* Sina-Spa: Hammam, 1890; Annex Artúr Szalatnai, 1931
* Spa Building Krym: Milan Savlík, 1975
Swimming in
* thermal-spa 'Green Frog': Bohuslav Fuchs 1937
* Sanatorium Machnác: Jaromír Krejcar, 1932
Saturday: Trenãianské Teplice – Banská Bystrica – Sliac – Nitra – Vienna
* Memorial to the Slovakian Revolt of Independence: Dusan Kuzma, 1969
* Sanatorium Sliac: Rudolf Stockar, 1934
* Heiliggeist Church: Lubomír Závodny, Juraj Polyák, 2000
Price for tickets includes bus fare, 2 nights+breakfast in Park Hotel resort in Pie_Èany and Hotel Slovakia in Trenãianské Teplice, 3x lunch, 3x dinner (beverages not included). Registration counts as booking and is subject to general cancellation policy (see below). Deadline for tickets or registration: 05/03/04. Don't forget to bring your swimsuits!
Meeting point: Thursday 8:45 am Architekturzentrum Wien – Shop / departure 9:00 am / return Saturday 11:00 pm
Tickets: Double occupancy room EUR 255.- per person / single occupancy EUR 275.-
Architects: Lubomír Zavodny and others
Experts: Henrieta Moravciková, Martina Esterle
Tour Guide: Iris Meder
General cancellation policy:
Costs for cancellation 30 days before departure: 10%; 20-29 days before departure: 25 %: 10-19 days before departure: 50%; 4-9 days before departure: 65%; from 3 days before departure: 85%; from 1 day before departure: 100%