sundays
sundays 131
historic flair, annex, wow!
Booked up!
Sun 12.10.2003, 13:45-19:00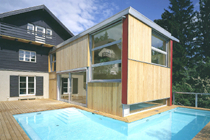 With absolute transparency Bulant & Wailzer present their small glass annex in Hietzing. For its innovative technology of exclusively glued glass construction units the project was awarded the "Solutia Design Award 2003," the first European structure ever to be so honored.
Another prize winner is the annex of the Landertshammer House in Gablitz, deliberatley functional yet brimming with vivacity, which was awarded the Wood Construction Prize in 2002 for its geometrically clear design.
On Tulbingerkogel, a hotel rich in traditions on a breath taking site offers rooms with new sight lines, freshly styled façades and a spa.
131-01
* Glass annex for a Biedermeier villa
Vienna Hietzing – 2003
Architects: Bulant & Wailzer
131-02
* Landertshammer House
Gablitz- 2001
Architects: Lichtblau/Spindler
131-03
* Tubingerkogel Hotel
Mauerbach – 1930 / 2001
Architects original structure: Fellerer/Wörle
Architects new construction: archisphere
Tickets include a beverage at the Tubingerkogel Hotel.
Meeting time: 1:45 pm at the Az W-Shop
Departure: 2:00 pm / Return: 7:00 pm
Architects: Aneta Bulant, Klaus Wailzer, Konrad Spindler, Gabriel Kacerovsky, Peter Döllmann, Arnim Dold
Tour guide: Marion Kuzmany