sundays
sundays 130
linzos
Sun 05.10.2003, 09:45-19:30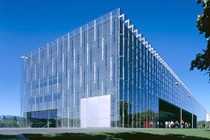 A few nautical miles upstream from Vienna, three venues for art on both sides of the Danube show off their rich interiors and sophisticated architectonic exteriors. Isabella Marboe shows sundays where art is housed in Linz.
130-01
* Offenes Kulturhaus Linz
remodel and redesign – 1995
Architects: Riepl Riepl
130-02
* art museum Lentos
Linz – 2003
Architects: Weber + Hofer AG
130-03
* Ars Electronica Center
Linz – 1993
Architects: Klaus Leitner, Walter Michl
Ticket price includes all museum admission fees, lunch in the Lentos museum restaurant (beverages not included), and a visit to the "cave" at the Ars Electronica Center.
Meeting time 9:45 a.m. at the Az W-Shop
Departure: 10:00 a.m. / Return: 7:30 p.m.
Architects: Riepl Riepl, Klaus Leitner
Expert: Gerfried Stocker
Tour guide: Isabella Marboe