sundays
sundays 126
Hradec Kralove - Königgrätz
Fri 04.07.2003 – Sun 06.07.2003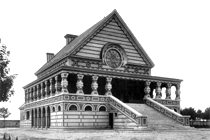 On the occasion of the exhibition 'Jan Kotera (1871-1923) A New Departure Into Czech Modernism' at the Az W, Tour 126 is going to take in one of Kotera's major projects: the museum in East Bohemian Hradec Kralove. As well as Kotera, his student Josef Gocar (1880-1945) also strongly influenced local architecture and urban change in the first half of the 20th century. His concept for urban development consisted of linking the suburbs to the historic city centre by a generous green belt on the outer periphery of which new residential districts and infrastructure buildings are grouped alternately with further areas of greenery.
Friday, July 04, 2003
Crematorium in Pardubice, 1923
Architect: Pavel Janak
Saturday, July 05, 2003
Tour of Hradec Kralove
Municipal Museum, 1913
Architect: Jan Kotera
Staircase near Marienkirche, 1909-1910)
School, 1923-1926
Ambrosius Church, 1926-1927
Kindergarten, 1926-1928
Railway management offices, 1927-1932
Urban development projects/zoning, 1923-1933
Architect: Josef Gocar (all)
Housing estate 'Labska kotlina' in Elbetal, 1949
Architects: Karel Havlicek, Frantisek Bartos
Wenke department store, 1910
Architect: Josef Gocar
Sunday, July 06, 2003
Return trip to Vienna via Prostejov and Brno
Hydro-electric power plant in Haj u Mohelnice, 1921
Architects: Bohuslav Fuchs, Josef Stepanek
Volkshaus (House of the People) in Prostejov, 1907
Architect: Jan Kotera
Departure: Friday, July 04, 2003, 12:00 A.M.
Retour Vienna: Sunday, July 06, 2003, approx. 11:00 P.M.
Tour guides / Experts:
Monika Platzer, Klaus Spechtenhauser
Tickets per Person in single room: Euro 360,00, in double room: Euro 320,00. Available daily from 10:00 A.M. to 7:00 P.M. at the Az W-Shop.
Tickets include bus trip, 2 nights with breakfast, 2 x midday meal and 2 x evening meal (each with 1 drink)
Written reservations will receive an invoice + pay slip by return post. Reservations are treated as binding and are subject to a cancellation fee (see details). Deadline for ticket purchases or reservations is Tuesday, April 30, 2003.
Maximum number of participants: 35 people !
The following cancellation fees apply:
Cancellation fee 30 days prior to departure: 10% of full price; 29-20 days prior to departure: 25%; 19-10 days prior to departure: 50%; 9-4 days prior to departure: 65%; 3 days or less prior to departure: 85%; within 24 hours of departure: 100%
Links:
Hradec Kralove
Hradec Kralove – une des plus anciennes ville de Bohême
Josef Gocar sur Radio Prague
Exposición sobre el fundador de la arquitectura moderna checa
Jan Kotera sur Radio Prague
History of Hradec Kralove
Jan Kotera Artworks and Fine Art at arthistorynet.com