sundays
sundays 120
Döbling Modernism
Sun 04.05.2003, 13:45-18:00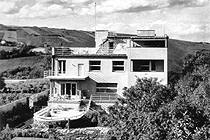 A tour of Grinzing is taking in exemplary apartment buildings by Josef Frank's circle, starting with Strnad's house built for the author Jakob Wassermann and including buildings by Helmut Wagner-Freynsheim and Berger/Ziegler, who studied under Loos and Frank, and going on to now almost forgotten proponents of Viennese Undogmatic Pragmatism like Franz Schacherl and Hans Gassner.
– House Wassermann / Architect: Oskar Strnad, 1914
– House Krasny / Architects: A. u. G. Karplus, Josef Frank, Adolf Krischanitz, 1928/2001
– House Auspitz / Architect: Helmut Wagner-Freynsheim, 1930
– House Fleischner / Architect: Franz Schacherl, 1930
– House Schur / Architects: Berger, Ziegler, 1933
– Houses on Grinzinger Allee / Architect: Hans Gassner, 1933
– House Salpeter / Architect: Siegfried C. Drach, 1935-36
– House on Leopold-Steiner-Gasse / Architect: Hans Gassner, 1936
The tour is on foot and the sites can only be seen from the outside.
Meeting point:
1:45 P.M.
at the Az W-Shop
Museumsplatz 1
A-1070 Vienna
Departure: 2:00 P.M. / Return: 6:00 P.M.
Tour guide: Iris Meder