sundays
sundays 118
norms and types #3
Sun 06.04.2003, 13:45-18:00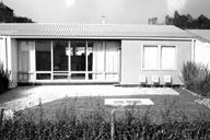 118-01
Werkbundsiedlung
Vienna-Hietzing
Architects: J. Frank, G. Rietveld, A. Loos, E. Plischke, i.e.
118-02
Veitingergasse Estate
Vienna-Hietzing
Architects: Carl Auböck, Roland Rainer
118-04
Mauerberg Estate
Vienna-Hietzing
Architect: Roland Rainer
The Werkbundsiedlung as representative of Classical Modernist single-house building does not merely geographically confront the Veitingergasse model estate, which has remained overlooked as one of the true pioneering achievements in construction with prefabricated elements and extremely innovative features.
Not far away the courtyard-based buildings of the Mauerberg estate provide an excellent example of a high-density low-rise development.
Meeting point:
1:45 P.M.
at the Az W-Shop
Museumsplatz 1
A-1070 Vienna
Departure: 2:00 P.M. / Return: 6:00 P.M.
Architect: Carl Auböck Jr.
Guided Tour guide: Maria Welzig
Tour of Plischke Haus in the Werkbundsiedlung: Elisabeth Goldarbeiter-Liskar
Maximum number of participants: 40 people !