sundays
sundays 116
Architecture For Data
Sun 23.03.2003, 13:45-18:00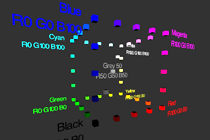 Information architecture is a method of representing databases in spatial structures, and of making them open to experience. The results provide new possibilities for complex information spaces within the architecture and per computer. Both historical references to completed architecture are being presented along with new approaches to virtual information architecture.
The head of the Institut für EDV-gestützte Methoden at Vienna University of Technology, Professor Georg Franck-Oberaspach, and the university assistant Peter Ferschin are giving a guided tour of the institute.
Meeting point:
1:45 P.M.
at the entrance to the Eingang KUNSTHALLE wien – project space
Treitlstrasse 2
(Karlsplatz)
A-1040 Vienna
Departure: 2:00 P.M. / Return: 6:00 P.M.
Experts:
Professor Georg Franck-Oberaspach
Nniversity assistant Peter Ferschin
Tickets: EUR 12,00 / EUR 8,00. Available daily 10:00 A.M. to 7:00 P.M. at the Az W-Shop
Maximum number of participants: 30 people !