sundays
sundays 110
a day in brno
Sun 20.10.2002, 07:45-20:00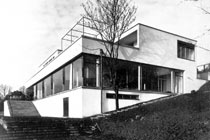 After the founding of Czechoslovakia in 1918 Brno quickly developed into an important social, cultural and economic center of the new nation. Particularly in its architecture and interior design the city entered a period of high quality and productivity. The Villa Tugendhat by Ludwig Mies van der Rohe is one of the icons of modern European architecture. The reason why Brno was apropriately named 'the secret capital of architecture' in Czechoslovakia is still visible in countless buildings today.
The day tour, on the occasion of the Mies van der Rohe exhibition in the Kaiserliches Hofmobiliendepot (The Imperial Furniture Collection) in Vienna (9/11/02-12/15/02), provides an exemplary glimpse into the multi-facetted architecture of the 1920s/30s in Brno. Art historian Daniela Hammer Tugendhat, the youngest daughter of the building's owner, will guide the tour through the villa. At the time of its construction, the villa's design was perceived as so radical, that a critic's words, 'Can anyone live in the Villa Tugendhat?' have become a familiar German quotation. Because of her personal history of emigration, Daniela Hammer Tugendhat cannot provide an answer to this particular question.
Villa Tugendhat / 1928-1930
Architect: Ludwig Mies van der Rohe
The Tugendhat villa, built between 1928-30 by Bauhaus architect Mies van der Rohe in an uncompromisingly functionalistic style, is part of a series of important functionalistic projects of the 20s and 30s in Brno.
Avion Hotel / 1927-1928
Architects: Bohuslav Fuchs, Arnost Wiesner
Moravská banka / 1929-1930
Architekt: Bohuslav Fuchs, Arnost Wiesner
Villa Kroha / 1928-1931
Architect: Jirí Kroha
Links:
– ArchitectureWeek – Culture – Building Heritage in Brno
– Website of the city of Brno
Meeting point:
7:45 am
Az W Infoshop / Departure: 8:00 am / Return: 11:00 pm
Tour guides:
Monika Platzer, Klaus Spechtenhauser
Expert:
Daniala Hammer Tugendhat
Tickets EURO 74.00 / EURO 67.00 / available daily 10:00 am to 7:00 pm at the Az W shop
Price includes bus fare, lunch, various entry fees and a snack on the way back.
Please be sure to bring valid passport and Czech Crowns, as no currency exchange is possible on Sundays.
Maximum number of participants: 35