sundays
sundays 107
a lovely residential area
Sun 29.09.2002, 13:45-18:00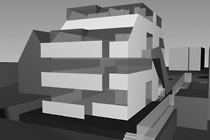 T house
Vienna – Döbling
Architect: Peter Nigst
Apartment building Delugstrasse
Vienna – Döbling
Architects: MARTERERMOOSMANN
Villas in Kaasgraben
Vienna – Döbling
Architect: Josef Hoffmann
Zemlinsky house
Vienna – Döbling
Architect: Walter Loos
How nice it is to live in Döbling… is demonstrated by two contemporary residential development projects – a privately commissioned multi-family residence with four different sized units and a small office in Feldgasse, and an unusual apartment building in Kaasgraben, clad in aluminum sheet-metal.
The 'Aryanized' Kaasgraben:
Formerly, celebrities of the Vienna music scene frequented the villas in Kaasgraben.
Yet the tune changed: the dispossession and expulsion of the villas' owners (among others the director of 'Universal-Edition,' the secretary-general of the Concert Hall Association and composers of 'despicable' music such as Egon Wellesz and Alexander Zemlinsky) marked the end of the Vienna modern period.
The Heurige (wine garden) Zawodsky is close by for those who wish to engage in further discussion and a leisurly conclusion to Sunday's tour in Kaasgraben…
Meeting point:
1:45 pm Az W Infoshop
at the Az W Infoshop
Museumsplatz 1
A-1070 Vienna
Departure: 2:00 pm / Return: 6:00 pm
Architects:
Peter Nigst, Georg Marterer, Thomas Moosmann
Tour guide:
Ebru Simsek
Tour guide, expert:
Stephan Templ, author of 'Our Vienna – Austrian Aryanization,' Aufbau-Verlag, Berlin
Tickets: EURO 12.00 / EURO 8.00 / project sheets EURO 5.00 / available daily 10:00 am to 7:00 pm at the Az W Infoshop