sundays
sundays 105
black housing working orange
Sun 07.07.2002, 13:45-18:00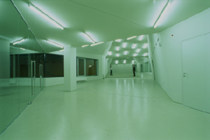 Eco 5: The ecological and economical considerations integrated in the concept for offices along the street frontage and studios facing the garden with planted terraces have created generous, modern working conditions in the inner-city zone.
Paltzamplatz: The projecting landmark on the matt black Eternite Facade of the block is comprised of irregularly docked glass boxes and verandas. Winter gardens that can become integral to the apartments in summer as open-air zones.
Impulse Centre: The formal language of BKK3 with a penchant for orange is bringing an atmosphere of change to the existing substance in Vienna-Favoriten. Moved volumes, light-flooded offices with angled ramps, curved circulation. Happy working!
Eco 5 / Office and Studio Building
5th District, Schönbrunner Strasse
Architect: Georg Georg Driendl
Apartment Building
10th District, Paltramplatz
Architects: Delugan_Meissl
IP-ONE
10th District, Fernkorngasse
Architects: BKK3
Meeting point:
1:45 P.M. at the Az W MuseumsQuartier / Burggasse entrance
Museumsplatz 1
A 1070 Vienna
AUSTRIA
Departure: 2:00 P.M., return: 6:00 P.M.
Architects:
Delugan_Meissl, Georg Driendl, BKK3 (Johann Winter, Franz Sumnitsch)
Guided Tour:
Barbara Achleitner
Tickets:
EURO 12.00 / EURO 8.00 (Available daily from 10:00 A.M.- 7:00 P.M. at the Az W Infoshop)