Summer Tour
Summer Tour 1: Architecture & Design – 10 June
Adolf Loos to Jean Nouvel
Fri 10.06.2011, 17:20-19:30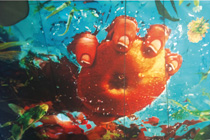 in German
From May to September the Architekturzentrum Wien offers 10 Vienna City Walks to architecture of the last 100 years.
This tour offers an excursion through Viennese design history. Starting with historical milestones like the American Bar by Adolf Loos and Otto Wagner's Postsparkasse (Postal Savings Bank), it leads on to legendary shop interiors and cool bars, providing an insight into trendy architectural newcomers like the Sofitel or the Wien City ship station on the Danube Canal, a lively summer destination.
Summer Tours are held regardless of the weather with 3 participants or more. Guided tours are in German.
dates: Friday 13 May, 10 June, 8 July, 5 Aug., 2 Sept.