Special Tours
Studio Visits. Visits to selected architecture studios
In the framework of the Vienna Art Week
Fri 22.11.2013, 13:45-17:30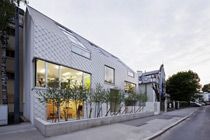 Under the motto 'Under a Single Roof' this year the Studio Visits bring visitors to the studios of two architecture practices who live and work in architecture they designed themselves. Starting in the architecture office SUPERBLOCK the tour first of all looks at a contemporary infill project in Neuwaldegg with a view of the Vienna Woods, and then visits the building group project 'wohnen mit uns! ' by einszueins architektur in the Nordbahnhof urban development area. In addition to visiting the projects participants will be given exclusive insights by the designers into their work and work methods.
Meeting point: 1.45 pm, Az W-Shop in the MQ
Museumsplatz 1, 1070 Vienna
2 pm: shuttle departs
2.30 – 3.30 pm: SUPERBLOCK
4 – 5 pm: einszueins architektur
5.30 pm: return to Az W
Presenter: Anneke Essl, Az W and the architects

This event will be held in German
* Maximum number of participants 25
Registration required: office@azw.at, T +43 1 522 31 15
Admission free!