Panel Discussion
Stadtdialoge Vienna Dialogues at the Az W
From Kaerntner Strasse to SCS and Back: Shopping Surfaces in Vienna
Wed 06.04.2005, 19:00-21:00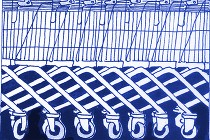 Concentrated shopping areas in the form of shopping centres are no longer being developed exclusively on the urban periphery. Valuable locations in the inner city zone have become much sought-after on the property market. Experience-orientated shopping structures are being created in conjunction with other functions, such as stations or sports stadiums.
The entertainment value of shopping has replaced simply satisfying everyday needs. The consequence is restructuring in the Vienna shopping streets, although there are often vacant premises or supply deficits in individual city districts.
Issues raised by the conversion and re-usage of former retail outlets are to be addressed in a panel discussion, along with market-control, future developments in shopping patterns, and how to guarantee the quality of public space with a view of developments to be found in other major cities in Europe.
Mark Gilbert, architect
Brigitte Jank, President of the Wiener Wirtschaftskammer
Kurt Puchinger, Regional Consulting GesmbH Wien
Rudolf Schicker, executive councillor for urban development and traffic, Vienna
Moderated by: Dietmar Steiner, Az W director
In collaboration with Stadtplanung Wien.