sundays
sonntags 7
Schools. Western Circle.
Sun 13.07.1997, 14:00-23:59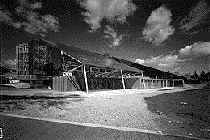 14th District, Hauptschule Kinkplatz Architect: Helmut Richter
13th District, Zubau Volksschule Hietzinger Hauptstrasse Architect: Elsa Prochazka
23rf District, Hauptsschule Dirmhirngasse Architect: Boris Podrecca
23rd District, Volksschule Otto Probst-Strasse 14, Architect: Gustav Peichl
15th District, Sehbehindertenschule Zinckgasse 12-14 Architects: Driendl*Steixner
The excursion starts at 2 p.m. at the Architekturzentrum Wien with a short briefing. Afterwards: Departure to the sites.