sundays
sonntags 162
home looks like this (VII)
Booked up!
Sun 03.07.2005, 13:45-19:00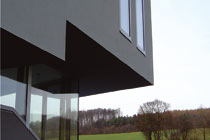 162-01
* Haus K50, Vienna-Hernals: planhaus, 2003
An airy prototype for an allotment system with prefabricated elements is providing self-builders with new perspectives. The agreeable structure of wood and glass in Vienna-Hernals invites people to complete their own simple units.
162-02
* Haus Dr. K, Vienna-Döbling: Mühlbacher Marschalek Architekten, 2005
Haus K looks clear and elegant in a prominent setting.
162-03
* floating house, Siegenfeld: HOLODECK.at, 2004
The form carved with familiar Holodeck precision and the cool exterior of the floating house look natural in their meadow setting. The complex structure is a delight offering ever new views and its high quality space for its occupants.
meeting point: 1.45pm, Az W Shop / departure: 2pm / return: 7pm
tickets: € 13.- (students € 08-50)
architects: planhaus / Mühlbacher Marschalek Architekten / HOLODECK.at
guided tour: Nicole Kläsener