Presentation
Solar Decathlon 2013
Presentation and discussion
Wed 22.01.2014, 19:00-21:00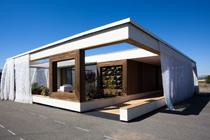 in German
With the sustainable plus energy house LISI the TU Vienna, together with its cooperation partners, won first place in the prestigious Solar Decathlon competition 2013 in California. LISI stands for "Living Inspired by Sustainable Innovation" and is an example of a courtyard-type house built from sustainable materials that is ideally suited for low-rise, high-density development. The house is conceived for one to two people and thanks to its well thought-out energy concept and smart architectural details it adapts perfectly to different climatic zones. This eco-house guarantees sun in winter, shade in summer, and more than enough solar energy for its own needs.
Introduction:
Karin Stieldorf, TU Wien, Institut für Architektur und Entwerfen
Presentations: Gregor Pils, Andreas Claus Schnetzer, Johannes Wesenauer, Sabrina Novalin, Philipp Klebert, Jakob Doppler
Followed by a panel discussion with:
Kuno Brüllmann, Prof. TU Vienna, Paris, (to be confirmed)
Doris Österreicher, Head of Business Unit Sustainable Buildings and Cities, AIT
Michael Paula, Head of the Unit for Energy- and Environmental Technologies, bm:vit
Georg Pendl, President bAIK
Hannes Raffaseder, Rector FH St.Pölten (to be confirmed)
Karin Stieldorf, Ass.Prof. TU Vienna
Benedikt Welz, Student, TU Vienna
moderated by: Christian Kühn, TU Vienna
Admission free!