Az W by Moonlight
Shelter
Architektur.Film.Sommer – 15.08.
Sat 15.08.2015, 20:00-23:59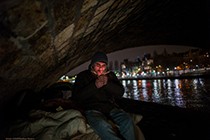 architecture film festival in the Az W courtyard
in the event of bad weather, at the Az W Podium
a cooperation by the Az W with wonderland — platform for european architecture, frame[o]ut and the MuseumsQuartier Wien
Special guests: Hannes Mayer, Martin Zettel and Claus Drexel
"Sei Vogel, wenn du fliegst"
AT 2010, 49 mins, D: Hannes Mayer & Martin Zettel, in German with English subtitles
A documentary on homelessness in Graz that tells of very personal stories, living conditions and what are frequently refined strategies for dealing with life "on the street", in an attempt to broaden our image of the city of Graz. The film avoids the familiar views of soup kitchens and shelters for the homeless, telling instead the personal stories and paths into homelessness, and out of it. The film shows the survival strategies, the everyday routines and the accompanying dangers. A film that carefully challenges our preconceptions of homelessness, informing our perception of the town and society.
FR 2013, 98 mins, D: Claus Drexel, in French with English subtitles
Paris at night. Jeni, Wenzel, Christine, Pascal and many other people without homes live on the margin of a world where society no longer protects them. In beautiful poetic images the film describes how they set up temporary shelters on the pavements, under bridges and in the corridors of the Métro — under constant threat of being chased away — without romanticising the protagonists' plight. An award-winning film about life on the street.
architecture film festival in the Az W courtyard