Lecture & Discussion:
s2arch. social and sustainable architecture
Lectures and panel discussion
Wed 14.05.2014, 19:00-21:00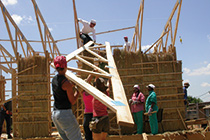 Welcoming address: Dietmar Steiner, Director Az W
Introduction: Christoph Chorherr, Vienna town councillor, founder and head of s2arch
Project presentation: Marlene Wagner, buildCollective
Panel discussion:
Anton Kolarik, Head of Identity & Communications, Bank Austria
Wilhelm Hemetsberger, Partner Ithuba Capital AG
Magdalena Lang, architect
Marlene Wagner, buildCollective
Birgit Werner, Bank Austria
participating students
moderated by: Sonja Pisarik, Az W
"Ithuba" is a Zulu word that means "chance, opportunity". Ithuba is also the name of two small "school towns" which the Austrian association s2arch – social and sustainable architecture has erected and further developed since 2008 in a township to the south of Johannesburg, and since 2010 also on the Wild Coast. Under the motto "build together, learn together" in the course of their studies students from European architecture faculties design and build in South Africa together with local people. The name "social and sustainable architecture" describes the program: social in the sense of encouraging solidarity, sustainable in the sense of ecologically built but also generating a long-term effect. As well as looking at the work of this association, the event also examines how collaboration with patrons and sponsors from the private economy functions.
The event will be held in German
Admission is free
The event "s2arch. social and sustainable architecture", May 14, 2014 at the Architekturzentrum Wien.