Lecture
Rotor
Project presentation
Fri 07.04.2017, 19:00-21:00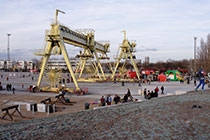 A cooperation by the University of Applied Arts Vienna with the Architekturzentrum Wien
A project presentation on 7 April by Rotor sets the mood for the Care + Repair project, the Architekturzentrum Wien public workspace curated by Anglika Fitz and Elke Krasny to be established in the Imgro-Halle on the Nordbahn grounds in summer 2017.
The focus of the collective, founded in Brussels in 2005, is on the conditions of production, use and re-use of materials in architecture and the building sector. Alongside the realisation of architecture projects Rotor takes a critical approach to issues relating to design for material resources and waste, in the form of studies, exhibitions, written statements and conferences.
Six international teams are currently developing proposals for the Care + Repair project, including Rotor working in collaboration with students of Social Design at the University of Applied Arts.
SCHEDULE
7 pm Welcome address: Angelika Fitz, director of the Az W
7:10 pm Lecture "Multi-Level Game": Renaud Haerlingens, Rotor (Brussels)
8 pm Discussion
Brigitte Felderer, head of Social Design, University of Applied Art Vienna
Angelika Fitz, director of the Az W
Elke Krasny, professor, Academy of Fine Arts Vienna