Panel Discussion
Ready for occupancy 2014: Sonnwendviertel Education Campus
Wed 22.10.2014, 19:00-21:00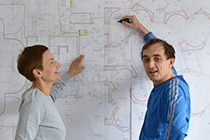 Welcoming address: Karoline Mayer, Director Az W
Introductory lecture: Anna Popelka and Georg Poduschka, PPAG Architekten
Discussion round:
Werner Schuster, Head of the Building Construction Group, Office of Urban Development and Construction Vienna
Cornelia Fisar, head of the kindergarten
Anna Popelka and Georg Poduschka, PPAG Architekten
Katharina Rosenberger, Kirchliche Pädagogische Hochschule Wien/Krems
Presenter: Christian Kühn, Dean of Studies TU Vienna
The new education campus at the Main Station site is made up of a kindergarten, an all- day primary school and an all-day "New Middle School" and is a pilot project for children from the age of 0 to 14. In 2011 PPAG Architekten emerged as winners of the open, two-stage competition. The basis for the competition was provided by a spatial and didactic concept developed in collaboration with teachers. To implement this concept a catalogue of the qualities required was worked out. The Education Campus Sonnwendviertel started operation on 01.09.2014. It is now time for a first evaluation from the viewpoint of the designers and, above all, the users.