Lecture
Re-engaging the Urban Architectural Project of Red Vienna
Lecture by Eve Blau
Thu 23.04.2015, 19:00-21:00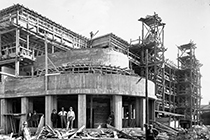 This event will be held in English.
A cooperative undertaking between the Verein für Geschichte der ArbeiterInnenbewegung and the Az W
Welcome Address: Hannes Swoboda, President of the Board of the
Az W
Lecture "Re-engaging the Urban Architectural Project of Red Vienna": Eve Blau, Adjunct Professor of the History of Urban Form and Co-Principal Investigator, Harvard Mellon Initiative on Urbanism and the Humanities, Harvard University Graduate School of Design
Followed by Questions and Answers moderated by Monika Platzer, Az W
On the lecture:
Today, the urban architectural ideas that shaped Red Vienna are as important for thinking about the city and the social agency of architecture as they were in the 1920s. Their legacy is evident in Vienna's ongoing social housing program and the projects that are currently transforming the former Nordbahn and new Hauptbahnhof quarters. Recently, they have also figured in urban discussions in New York, Berlin, and elsewhere. At a time when multinational corporations are determining the economic and spatial organization of cities across the world, and new kinds of global actors are assuming roles previously played by governments and their agencies, the municipal project of Red Vienna – that set itself the task of making the city a more equitable environment for all members of society – has renewed relevance.
Eve Blau, author of The Architecture of Red Vienna, 1919-1934 (MIT, 1999) / Rotes Wien. Architektur 1919-1934: Stadt – Raum – Politik (Ambra, 2014) explores the lessons that Red Vienna might hold for today.
Admission free!