Presentation
Public Lecture 3: Public Fiction – Filmic Positions on Public Space
Wed 26.01.2011, Daily 10:00 AM - 07:00 PM, Wednesdays until 09:00 PM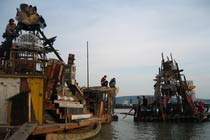 Streetball cages and shopping oases, enclosure and exclusion, appropriation and surveillance – public space is not only a necessary workplace for filmmakers, it is more often presenting challenging subject matter, it is an arena for the depiction of power structures and socio-political interests. This evening is dedicated to Austrian filmmakers who have done some enthralling work about and in public space. They show excerpts from their films, report on their affinity for the subject and their experiences of public space as a workplace.
7pm Andrea Seidling, curator of the exhibition, welcome address
7.10pm presentation of film excerpts:
Manu Luksch, 'Limitations Permitted' (2009), 'Faceless' (2007)
Michael Palm, 'Body Trail'
Paul Poet, 'Empire Me' (2011)
Katharina Weingartner, 'Sneaker Stories', 'Der Gruen Effekt'
8pm panel discussion with the filmmakers
moderated by Andrea Seidling
Photos from the presentation 'Public Lecture 3: Public Fiction – Filmic Positions on Public Space' in the Az W's Old Hall, January 26, 2011.