Lecture
PUBLIC LECTURE 2: The City's Synapses
Wed 01.12.2010, Daily 10:00 AM - 07:00 PM, Wednesdays until 09:00 PM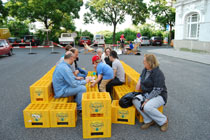 The key task for the local coordinators is familiarizing residents with their neighbourhoods. To stimulate activity by promoting neighbourly relations and bringing interested parties to the table on the basis of projects in public space.
In the Simmering Schneiderviertel (Lit. Tailors Quarter) a street was transformed for a day by GBstern11 into a public space for experimentation.
In collaboration with GBstern9 and GBstern17/18 the architects heri&salli erected a vast public table in a tram station as a performance venue.
In Graz < rotor > are carrying out the project Annenviertel — the art of urban activity.
These three realised examples form the introduction for the following round of discussions on participation in the urban fabric.
7pm Andrea Seidling, curator of the exhibition, welcome address
7.10pm presentations
Andrea Breitfuss, GBstern11 'schöne Aussicht'
Anton Lederer, chairman of < rotor > 'Annenviertel! die Kunst des urbanen Handelns'
Josef Saller, architect, 'Tischkultur'
8pm panel discussion: Andrea Breitfuss, Josef Saller, Anton Lederer
moderated by Andrea Mann, head of GBstern02
Photos from the event 'Public Lecture 2: The City's Synapses', held Dec. 1st 2010 at the Architekturzentrum Wien.