sundays
Project Danube – Periphery or City 2000?
tour 38
Sun 25.04.1999, 13:45-23:59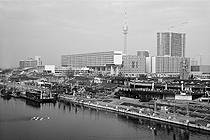 22nd district, Donau-City
"At ground level / Underground and high-speed railway / motorway / park and ride / optical fibre cable / First floor / footpaths / squares / passages / direct access to Danube river bank. The skyline is reflected in the water. The new symbols of Vienna." (Renate Banik-Schweitzer)
Based on the original master plan by Krischanitz and Neumann, which was substantially changed since the start of the project, the development of the Donau-City after the moving in of the first inhabitants is going to be analysed. The different units of the area are going to be visited together with the architects.
Tour with the architects Cufer, Bammer, Balogh / Delugan & Meissl / Mike Loudon, Eric Steiner, Heinz Neumann.
Meeting: 1:45 p.m. at the "Andromeda Tower"
Tour guide: Michael Diem and the architects
Ticket fees: EUR 10.91 (ATS 150.-) / EUR 7.27 (ATS 100.-)