Exhibition
PORTRAITS OF THE CITY — an exhibition project by pupils and refugees
Thu 05.05.2016 – Tue 17.05.2016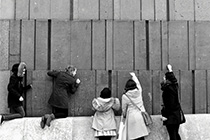 The Az W is launching two projects to accompany the exhibition 'Zoom! Picturing Architecture and the City' in collaboration with pupils and refugees, who engage with the city of Vienna and present their views of the city in a subsequent exhibition at the Az W.
The schools project 'Stadt: wahr: nehmung' provides an opportunity for the pupils of Hegelgasse school to take a closer look at their city. The participating youths record what they see on their way to and from school and the traces of globalization that they discover in their city using Social Maps and photographs.
The aim of the refugee project 'Vienna to go – Wien angehen' is to expand the radius of movement for unaccompanied refugee minors from the Haus Liebhartsthal care home in the 16th District, to show them new places and routes. Among other places, we visit the library on Urban-Loritz-Platz and the MuseumsQuartier, and embark on a bike tour of Ottakring to familiarise them with Vienna.
The urban expedition and the exhibition together at the Az W provide the pupils and the refugees opportunities to exchange experiences, as well as to show the process of inspecting, appropriating and exploring the city from two different perspectives.
'Stadt: wahr: nehmung' is a cooperation for culture connected by BG & BRG Hegelgasse with the Az W, supported by the Austrian Federal Ministry of Education and Women's Affairs and Kulturkontakt Austria.
'Vienna To Go – Wien angehen' is a cooperation between the Arbeiter-Samariter-Bund, Westlicht and the Az W, for Hunger auf Kunst und Kultur, supported by Erste Bank.