Exhibition
Paraíso Latinoamericano
Part of the Exhibition "The unknown Loos: Walter"
Thu 02.03.2006 – Mon 22.05.2006
Daily 10:00 AM - 07:00 PM, Wednesdays until 09:00 PM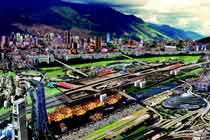 The exhibition 'The Unknown Loos: Walter' at the Architekturzentrum Wien is accompanied by a survey compiled by Michael Bier of Austrians who went on to work as architects in the various South American states following their emigration.
The survey moves from the first careers immediately following independence from Spanish sovereignty in the Americas in the 19th century, through the major wave of immigration at the start of the 20th century and in the years preceding the Second World War, to Austrians whose influence is felt in Latin America today, to show the continuity of the cultural exchange between the two continents.
A catalogue is to be published to accompany the exhibition.
List of Architects
Hans Rehr
born 1691 in Prague, died 1756 in Lima
Georg Vinterer
born 1695 in Tyrol, died 1750 in Quito
Samuel Fritz
born 1654 in Tratenau, died 1725 in Jeberos
Martin Dobrizhoffer
born 1718 in Frymburk, died 1791 in Vienna
Matias Strobl
born 1696 in Bruck/Mur, died 1769 in Cadiz
Francisco Wisner von Morgenstern
born 1804 in Budapest, died 1878 in Asunción
Albert Siegel Lübbe
born 1870 in Vienna, died 1938 in Santiago de Chile
Anton Vögele
born 1860 in Innsbruck, died 1924 in Buenos Aires
Oscar Ranzenhofer
born 1877 in Vienna, died 1929 in Vienna
Johannes Kronfuss
born 1872 in Budapest, died 1944 in Córdoba
Karl Brunner
born 1887 in Vienna, died 1960 in Vienna
Jonas Mond
born 1906 in Vienna, died 1963 in Buenos Aires
Hans Waloschek
born 1899 in Vienna, died 1985 in Vienna
Tibor Weiner
born 1900 in Budapest, died 1965 in Budapest
Martin Eisler
born 1913 in Vienna, died 1977 in Buenos Aires
Friedrich Blodek
born 1905 in Vienna, died 2001 in Bogotá
Alexander Zohn
born 1930 in Vienna, died 2000 in Guadalajara
Michael Bier, born 1957 in Vienna
Hubert Klumpner, born 1965 in Salzburg
Bernhard Rehn, born 1968 close to Graz
Ulrike Stehlik
Wolfgang Timmer
Curator: Michael Bier
Sponsors:
Geschäftsgruppe Stadtentwicklung und Verkehr
Bundeskanzleramt Sektion Kunst
Wien Kultur
Bundesministerium für Bildung, Wissenschaft und Kultur
A few views of the exhibition 'The Unknown Loos: Walter' combined with the exhibition 'Paraíso Latinoamericano' in the Az W´s Old Hall.