Exhibition
outstanding artist award – Experimental tendencies in architecture 2014
Thu 16.10.2014 – Mon 03.11.2014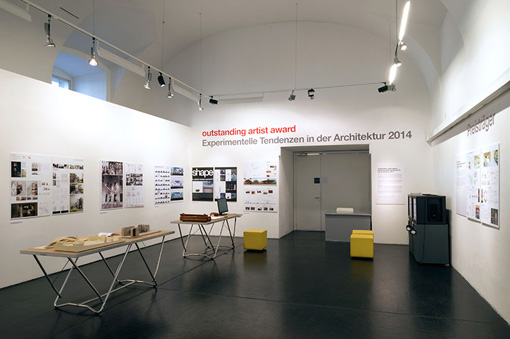 Since 1988 the most important prize for innovative architecture in Austria has been awarded every two years by the Austrian Federal Chancellery and is being organised this year for the first time by the Architekturzentrum Wien. This competition is intended to showcase architecturally ambitious, conceptually profound, forward-looking positions and to make them accessible to a wider public.
At the award ceremony Wednesday 15 October 2014, the winning project and 3 honourable mentions will be announced and, together with 10 remarkable nominated projects, will be presented in an exhibition.
The project panels with photographs, drawings and comments and models reveal a remarkable wealth of idea and a delight in experiment and present new conceptual and constructional approaches.
Presentation "Best of Austria 2012_13. Architektur_Architecture"
Award ceremony "outstanding artist award – experimental tendencies in architecture 2014"
Opening of the exhibition "outstanding artist award – experimental tendencies in architecture 2014"