Guided Tour
Otto Wagner Basic Tour – May
Sat 31.05.2008, 13:45-16:00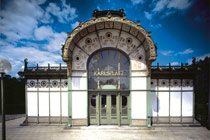 Reservations not required, simply turn up at the meeting point. The tour will be held regardless of the weather conditions.
Tickets for public transport will be required in the event of rain.
Meeting point: Architekturzentrum Wien in the MQ, 1 Museumsplatz, 1070 Vienna, at 1.45pm / Az W Shop
Information
and bookings for guided tours for groups (available in German or English)
Christa Veigl
E-Mail: c.veigl@eunet.at
Telefon: +43 (676) 393 31 56
Otto Wagner
Otto Wagner stands for tradition and modernity. His work combines the end of the Ring Road era with the golden spring of Viennese Jugendstil and a pragmatic style unknown around 1900 that came to be referred to as Functionalism.
Programme
Start at the Architekturzentrum Wien: The permanent exhibition 'a_show. Austrian Architecture in the 20th and 21st Centuries' begins with Otto Wagner (1814–1918) and his buildings and ideas for the future for a metropolis around 1900.
At the Otto Wagner Pavilion on Karlsplatz the Wien
Museum has a display of documentation showing the life and work of the great Austrian architect. St. Leopold am Steinhof, one of Wagner's key works and a key piece of church architecture, is presented as a model as well as the never built Kaiser-Franz-Josef-Stadtmuseum, which would have redefined Karlsplatz. And finally, the pavilion itself is one of Wagner's most famous Stadtbahn stations.
Stadtpark Stadtbahn/U4 Station: Wagner designed over 30 stations for the Vienna Stadtbahn, a rail network that stretches over 40 kilometres and dominates the image of the city. The Stadtpark station is still a part of the underground and suburban line rail networks today, as is almost the entire line built by Wagner around 1900.
Austrian Postal sSavings Bank with a visit to the large Bankers Hall and the WAGNER:WERK MUSEUM. The museum, which opened in 2005, uses spaces previously not accessible to the public for exponents showing the competing projects submitted to the architecture competition of 1903 for a "k.u.k. Postsparkassenamt" (Postal Savings Bank). Wagner won the competition even though he did not remain within the parameters of the brief.
SUMMER SCHEDULE 2008
31 May, 14 June, 12 July, 16 August and 6 September: from 1.45pm – 4pm