Guided Tour
Otto Wagner, Adolf Loos & Colleagues 20.06.
Architecture in Vienna circa 1900
Sat 20.06.2009, 14:00-16:30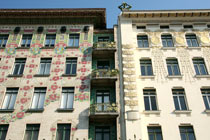 An excursion on foot and with the metro. Buildings are explored by Otto Wagner, Adolf Loos, Joseph Maria Olbrich, Max Fabiani, Josef Plecnik and their contemporaries.
Starts at the Architekturzentrum Wien with a small dose of architecture history in the permanent exhibition 'a_show': from the Ring Road urban expansion project to the golden era of fin-de-siècle Vienna and early modernism.
From May until October 2009, always on the 1st and 3rd Saturday of the month, 2pm to 4.30pm
dates: 2 and 16 May
6 and 20 June
4 and 18 July
1 August (only on the 1st Saturday in August)
5 and 19 September
3 and 17 October
Reservations not required, simply turn up at the meeting point. The tour will be held regardless of the weather conditions.
Meeting point: Architekturzentrum Wien in the MQ, 1 Museumsplatz, 1070 Vienna, at 2pm / Az W Shop
Please bring your ticket for public transport!
Guided tour: Christa Veigl
Information
and bookings for guided tours for groups (available in German or English):
Christa Veigl
E-Mail: c.veigl@aon.at
Telefon: +43 (676) 393 31 56