Day of the Open Door
OPEN HOUSE at the Az W
Sun 01.05.2011, 10:00-19:00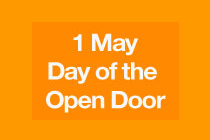 As guests of the Architecture Lounge of the Architekturzentrum Wien, on 1 May admission is free to the Az W for everybody interested in architecture. Both exhibitions are open for you, free of charge, from 10am to 7pm.
1pm + 3pm Interactive guided tour of the exhibition 'Flying Classrooms' for children aged 6+
2pm + 4pm Guided tour of the exhibition'Flying Classrooms' for adults
1pm – 5pm Workshop for kids aged 6+. The workshop 'School Can Be Different' provides you with an opportunity to see what the school, the classroom or the school furniture of your dreams actually looks like. There are no limits to your imagination here.
all-day quiz rally in 'a_show' (Neue Halle)